Online Quran Learning Skype & Zoom |Online Quran classes via Skype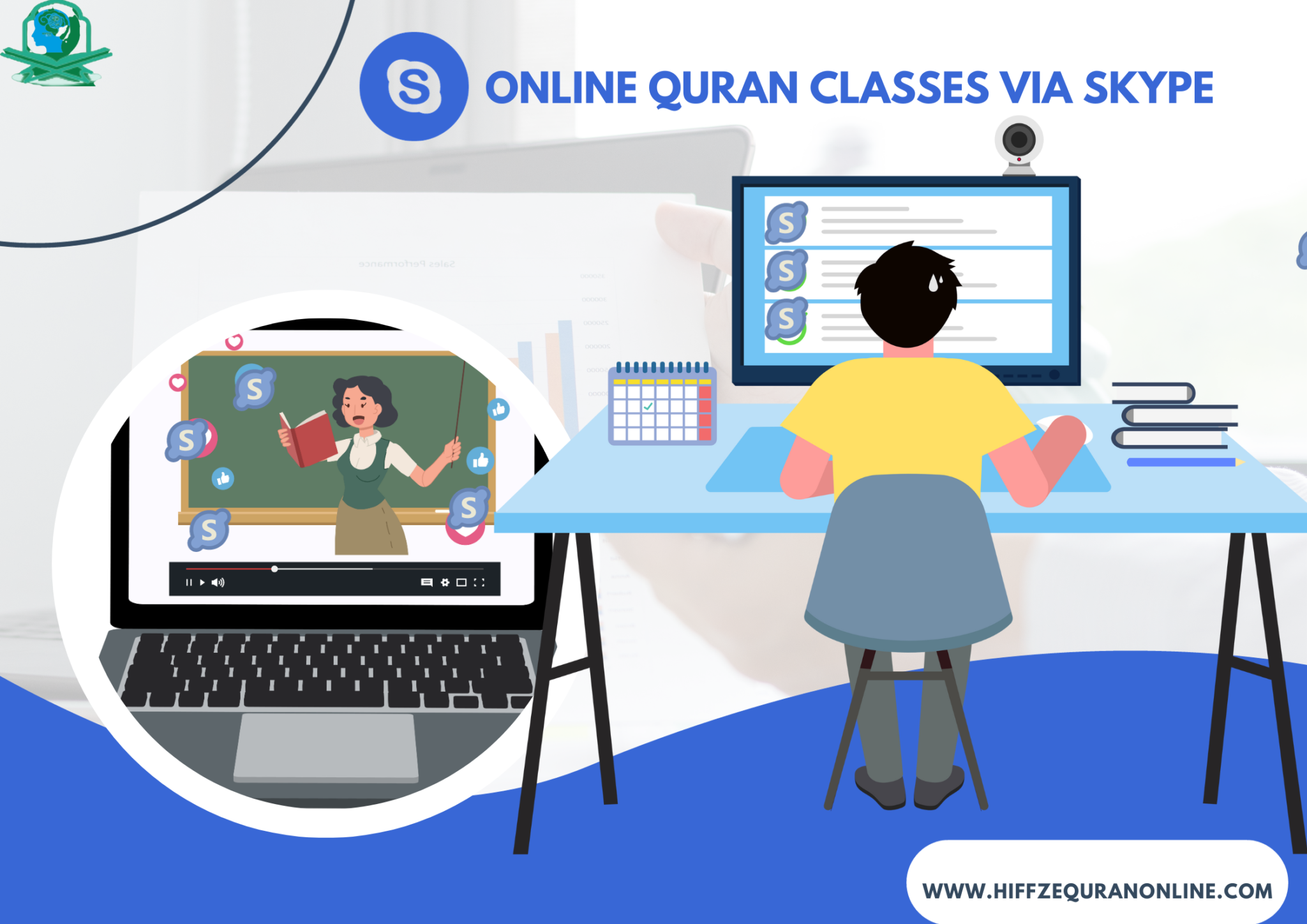 In todays world many Muslims live in non-Muslim countries. They want to learn the Quran or teach it to their children. Unfortunately in these countries access to Islamic institutions/schools is often limited due to their way of life or busy schedules. Additionally finding a Quran teacher near you who provides Quran lessons on a regular basis at home can be difficult.
If you are a non-Arabic speaking Muslim residing in a foreign country and you wish to learn the Quran, Arabic language, or Islamic sciences for yourself or your children, the best and easiest way to do so is by learning online. Through Skype and Zoom online Quran classes offer one of the best technological solutions for remote Quran learning.
To start participating in Quran classes on Skype or Zoom
all you need is a computer or mobile device with a good internet connection. With online Quran classes via Skype or Zoom, you can learn Quran Arabic, and Islamic studies conveniently from the comfort of your home with expert local Arabic teachers. Its a fascinating and effective way to learn.
Using these apps, you won't need to drive to a local Islamic center mosque to learn the Quran or force your children into an Islamic school. You can easily learn with the best online tutors from around the world at reasonable fees, all from the comfort of your home.
How Conduct Zoom & Skype Quran Classes Online
The Hiffzequran-Academy has several years of experience in providing online quran-classes and other online quran learning services through Skype and Zoom, We have a modern system on our website that enhances the learning experience for online-classes in Quran and Islamic-studies. You can now start your online course directly from your mobile or laptop Its similar to taking regular classes but with a personal online tutor, Students from all around the world are learning Quran and Islamic-studies online with the assistance of our certified best tutors.
Advantages Online Quran classes Skype
Now, we are living in the digital age where everything has gone digital. Learning the Quran online has primarily shifted to online institutions. Online learning is quite beneficial, and some of its advantages include:
You can learn from the comfort of your home, eliminating the need to travel to physical institutions. This is especially beneficial for those with busy schedules.
Online classes often offer flexible schedules, allowing you to choose the timing that suits you best
Access to Qualified Instructors
Online platforms provide access to certified and knowledgeable tutors from around the world, ensuring quality education.
 You can receive one-on-one attention from your tutor, allowing for a personalized learning experience tailored to your needs and pace.
Online learning transcends geographical boundaries, enabling students from various parts of the world to access the same high-quality education.
Many online programs offer features to track your progress, making it easier to assess your development.
Class Type: One-to-One
Class Duration for reading: 30 Minutes
Class Duration for hifz: 1 hours Minutes
Age Level: At least 3 years
Tutor: Live Private tutor
Gender: Both Male/Female
Languages: Urdu / English
3 Steps For Starting Online Skype & Zoom Classes
Fill out the form and book a free trial online class at Hiffzequran Academy, so that students can get in touch with you and confirm the selected appointment for your free trial class.
2- Confirm the Appointment
Once you have submitted your request for a free trial, a designated tutor from Hiffzequran Academy will contact you within 24 hours via email, phone call, or WhatsApp to confirm the appointment and discuss further details.
3- Download & Install Skype or Zoom App
To start your classes at the scheduled appointment time, make sure to download the app and ensure that you are online on the app. If you're looking for the opportunity to learn Quran, Arabic, or Islamic studies with the best and expert online instructors, start your learning journey today and take advantage of two free trial classes!